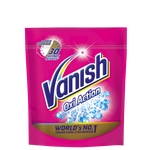 Vanish Oxi Action Powder
Don't let stain removal bother you anymore. With Vanish Oxi Action Powder you can efficiently get rid of stains from your colored and white clothes.
Vanish Oxi Action Powder
Soaking
Step 1:
For tough and dried stains: Fully dissolve 1 scoop of the Vanish Oxi Action Powder into 4 litres of warm water (max 40 °C) and leave it to soak. For lighter stains, you can use 1/2 a scoop. Colour: leave to soak for a maximum of 1 hour. Whites: leave to soak for a maximum of 6 hours.
Step 2:
After soaking, wash as usual or rinse thoroughly.
Important:
For best results on tough stains, rub the stains out of the clothes before rinsing.
Did this solve your stain?
Other solutions to solve this stain
Didn't find the solution you were looking for?
Expert Tips
Place the item under hot water. This would help in removing the initial stain before it settles-in.
Once you reach home, use Vanish and follow the above instructions to completely remove the stain.
Related Articles
Thanks to our addiction to cola and fizzy pop, it is very normal for us to spill drinks on ourselves. Vanish makes it easy to deal with these types of stains and if you use it following the mentioned instructions, you'll easily restore your favorite shirt to its former glory.