Cooking oil on coloured clothes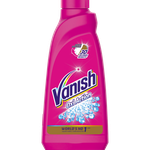 Vanish Oxi Action Liquid
Wash away your worries about stain with Vanish Liquid – Chlorine free. Vanish is different from other harmful Chlorine based traditional beaches, as it contains Oxygen, which removes stains without damaging the color of the fabric.
Vanish Oxi Action Liquid
Soaking
Step 1:
Add 60ml of Liquid into 4 litres of warm water (40°C max).
Step 2:
Soak item for 1hr (max) for colours or up to 6hrs (max) for whites.
Step 3:
Place pod with 60ml dose into your washing machine and wash as usual with your detergent.
Did this solve your oil stain?
Other solutions to solve this stain
Didn't find the solution you were looking for?
Expert Tips
There are only two things that are stopping you for being the master chef of your kitchen:
1. The confidence
2. The fear of oil stains.
Well, we have one solution for both - The Vanish stain remover.
Treat the oil stains immediately giving them minimal time to settle on the fabric.
Dab the soiled area with a damp towel for a couple of minute. Refrain from rubbing the stain as it smear around.
Use Vanish as instructed above.
Related Articles
Cooking is no child's play. With the myriad of ingredients to use and precise measure of flour to add, oil stains only add to the stress. Thank god for Vanish Oxi Action, it wicks off the oil stains completely.