Grass stains on coloured clothes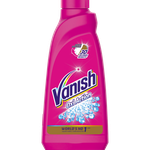 Vanish Oxi Action Liquid
Wash away your worries about stain with Vanish Liquid – Chlorine free. Vanish is different from other harmful Chlorine based traditional beaches, as it contains Oxygen, which removes stains without damaging the color of the fabric.
Vanish Oxi Action Liquid
Pre-treat
Step 1:
Use new Vanish Oxi Action Liquid pod to dispense liquid directly onto stain.
Step 2:
Gently rub stain as required using the base of the pod.
Step 3:
Leave Liquid on the stain for 10 minutes (max).
Step 4:
Place pod with 60ml dose into your washing machine and wash as usual with your detergent.
Did this solve your stain?
Other solutions to solve this stain
Didn't find the solution you were looking for?
Expert Tips
Grass stains on your clothes can be become a real problem if not taken care as soon as possible. Work from inside out; this helps in getting rid of the stain from the fabric.
If you are away from your house, try and dampen the stain with water till you reach home. Try and not rub a grass stain as there are high chance of you spreading the stain further.
Follow the above mentioned instructions along with Vanish for best results.
Trivia
The grass stains contain a dye from the chlorophyll of the plants, which makes it extremely hard to get rid of through regular laundering.
Related Articles
Grass stains are a daily affair, especially with kids playing outdoors. You don't need to throw away grass-stained clothes anymore as now it is completely possible for you to remove any grass stain with the assistance of Vanish Oxi Action Liquid.