Ketchup on coloured clothes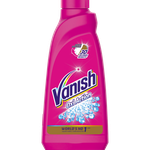 Vanish Oxi Action Liquid
Wash away your worries about stain with Vanish Liquid – Chlorine free. Vanish is different from other harmful Chlorine based traditional beaches, as it contains Oxygen, which removes stains without damaging the color of the fabric.
Vanish Oxi Action Liquid
Pre-treat
Step 1:
Use Vanish dosing pod to dispense liquid directly onto stain.
Step 2:
Gently rub stain as required using the base of the pod.
Step 3:
Leave gel on the stain for 10 minutes (max).
Step 4:
Place pod with 60ml dose into your washing machine and wash as usual with your detergent.
Important:
Always follow the usage instructions on the Vanish packaging. Do not use on wool, silk or leather. Do not use on finished or coated surfaces - for example wood, metals etc.
Did this solve your stain?
Other solutions to solve this stain
Didn't find the solution you were looking for?
Expert Tips
Note down our top tip for getting rid of ketchup stains; remove as much as you can of the excess ketchup and then blot as much stain as possible. We would request you to not rub a stained item; this would only spread the stain around.
Use a clean, damp paper towel or cloth and dab the ketchup stain till you have removed as much as you can.
Once you get hold of Vanish, follow the above mentioned instructions to get rid of the stain completely.
Related Articles
Ketchup stains are a common issue; especially when a stray dollop decides to abandon that hot chip and chooses to land on your new shirt. At first glance, the stain would look like an absolute disaster, but there's no need to worry as Vanish Oxi Action Liquid can make your shirt look sparkling clean in no time.