Mascara on coloured clothes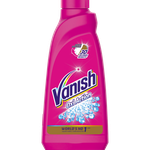 Vanish Oxi Action Liquid
Wash away your worries about stain with Vanish Liquid – Chlorine free. Vanish is different from other harmful Chlorine based traditional beaches, as it contains Oxygen, which removes stains without damaging the color of the fabric.
Vanish Oxi Action Liquid
Soaking
Step 1:
Add 60ml of Liquid into 4 litres of warm water (40°C max).
Step 2:
Soak item for 1hr (max) for colours or up to 6hrs (max) for whites.
Step 3:
Place pod with 60ml dose into your washing machine and wash as usual with your detergent.
Important:
Always follow the usage instructions on the Vanish packaging. Do not use on wool, silk or leather. Do not use on finished or coated surfaces - for example wood, metals etc.
Did this solve your stain?
Other solutions to solve this stain
Didn't find the solution you were looking for?
Expert Tips
Among all items enclosed in your make-up pouch, the Mascara is something that we'll put in first. Not only does it enhances the long lashes but also completes the ensemble.
But, a spill by mistake, can ruin the entire picture. Mascara stains are the toughest to get rid of. Also, it hardens if not treated well in time.
You can get the hardened residue off with a blunt knife.
Then, sprinkle small amounts of water and dab the soiled area.
Launder it with 60ml of Vanish Oxi Action Liquid.
Trivia
Mascaras are usually dark in colour and contains oil. It is this oil that gets absorbed into the fabric making the stain difficult to get off.
Related Articles
Hidden deep into your handbags, there's always that magic flask of mascara. No doubt that a good mascara is a life saver but, an accidental spill on your dress will turn it into a nightmare. But, thanks to Vanish Oxi Action, tough mascara stains won't bother you.
Follow the instructions below and get your clothes in their former glory in no time.