Mayonnaise on coloured clothes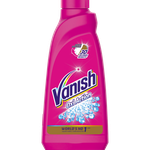 Vanish Oxi Action Liquid
Wash away your worries about stain with Vanish Liquid – Chlorine free. Vanish is different from other harmful Chlorine based traditional beaches, as it contains Oxygen, which removes stains without damaging the color of the fabric.
Vanish Oxi Action Liquid 
Pre-Treat:
Step 1:
Use new Vanish Oxi Action Liquid pod to dispense liquid directly onto stain.
Step 2:
Gently rub stain as required using the base of the pod.
Step 3:
Leave Liquid on the stain for 10 minutes (max).
Important:
Always follow the usage instructions on the Vanish packaging. Do not use on wool, silk or leather. Do not use on finished or coated surfaces - for example wood, metals etc.
Did this solve your stain?
Other solutions to solve this stain
Didn't find the solution you were looking for?
Expert Tips
Mayonnaise stains are not unknown to us. We've all been a victim of these stains at some point.
What to do:
Mayonnaise is oil-based, hence it is important to treat them at as soon as possible.
If the stain dries up, use a blunt knife to scrape it away.
Pass the soiled area under water.
Add the Vanish stain remover as instructed above and launder as usual.
Related Articles
Mayonnaise is comfort food. However, a mayo spill on your clothes will make you uncomfortable. As mayonnaise is oil-based, it may leave the stain forever. Don't fret, the Vanish stain remover will help you get the stain off your clothes. All it takes is a single wash.