Mayonnaise on white clothes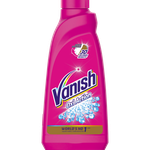 Vanish Oxi Action Liquid
Wash away your worries about stain with Vanish Liquid – Chlorine free. Vanish is different from other harmful Chlorine based traditional beaches, as it contains Oxygen, which removes stains without damaging the color of the fabric.
Vanish Oxi Action Liquid
Soaking
Step 1:
For tough and dried stains: Fully dissolve 1 scoop of the Vanish Oxi Action Powder into 4 litres of warm water (max 40 °C) and leave it to soak. For lighter stains, you can use 1/2 a scoop. Whites: leave to soak for a maximum of 6 hours.
Step 2:
After soaking, wash as usual or rinse thoroughly.
Important:
For best results on tough stains, rub the stains out of the clothes before rinsing.
Did this solve your stain?
Other solutions to solve this stain
Didn't find the solution you were looking for?
Expert Tips
Stain, in general, are a menace. Especially, if they are on whites. Some stains are avoidable and some are inevitable. Mayonnaise stain is what we've all have had at some point.
Not only does the mayo spill leaves a mark after wash but, it renders the garment unusable.
What you can do:
Wick off the stain at the earliest with a tissue.
Use a blunt knife or a butter knife to scrape the dried stain off the garment.
Follow the above instructions to treat the stain with Vanish.
Related Articles
Your white clothes are almost unusable if you spill mayonnaise over it. But, thanks to Vanish stain remover, you can now have your whites back as before. It wicks off the stain in a single wash.