Motor oil and grease on coloured clothes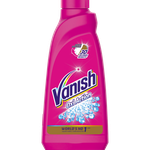 Vanish Oxi Action Liquid
Wash away your worries about stain with Vanish Liquid – Chlorine free. Vanish is different from other harmful Chlorine based traditional beaches, as it contains Oxygen, which removes stains without damaging the color of the fabric.
Vanish Oxi Action Liquid
Soaking
Step 1:
Add 60ml of Liquid into 4 litres of warm water (40°C max).
Step 2:
Soak item for 1hr (max) for colours or up to 6hrs (max) for whites.
Step 3:
Place pod with 60ml dose into your washing machine and wash as usual with your detergent.
Did this solve your stain ?
Other solutions to solve this stain
Didn't find the solution you were looking for?
Expert Tips
In case of grease or motor oil stains, treat them instantly with hot water, allowing the fabric to get rid of the stain completely.
Get rid of as much grease or motor oil as possible with the help of a spoon, but be careful not to press the stain too hard.
Blot the grease stain with the help of a paper towel, using a lifting motion till the time stain stops appearing on the paper towel. If at home, follow above instructions to achieve best results.
Trivia
Getting rid of grease and motor oil stain can be taxing process as these items tend to have thick consistency and dark colors. Depending on the material that is stained and the duration the stain was left untreated, it can become a herculean task to get rid of the stains. Fortunately, now you can tackle grease and motor oil stains with ease thanks to the specially formulated Vanish Oxi Action Liquid.
Related Articles
Grease and motor oil stain harms clothes and carpets all the time. Majority of people will choose to get rid of cloths affected by such stains. However, thanks to Vanish Oxi Action Liquid, it is now possible to get rid of grease and motor oil stains from household fabrics.