Motor oil and grease on white clothes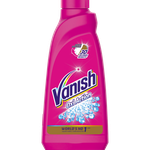 Vanish Oxi Action Liquid
Wash away your worries about stain with Vanish Liquid – Chlorine free. Vanish is different from other harmful Chlorine based traditional beaches, as it contains Oxygen, which removes stains without damaging the color of the fabric.
Vanish Oxi Action Liquid
Soaking
Step 1:
Add 60ml of Liquid into 4 litres of warm water (40°C max).
Step 2:
Soak item for 1hr (max) for colours or up to 6hrs (max) for whites.
Step 3:
Place pod with 60ml dose into your washing machine and wash as usual with your detergent.
Did this solve your stain ?
Other solutions to solve this stain
Didn't find the solution you were looking for?
Expert Tips
Stain won't give you a prior alarm. They can happen at anytime, anywhere. Although, they are a menace, it's a completely different story if it is on the white colour.
Here are few quick steps you can take to save your whites:
Wick of the stain immediately with the tissue. 
Scrape the dried stain with a blunt knife. Be careful while doing this step.
Work the stain inwards-out.
Follow the instructions as above as you treat the soiled garment with Vanish.
Trivia
Grease or motor oil stains are a piece of work. Grease is dark in colour and the oil base attached to any fibrous item making it difficult to get it off. Thanks to the Vanish Oxi Action Gel, its special formula helps you get rid of the stains in one wash.
Related Articles
Stains that have an oil-base can be quite a piece of work, especially if it's on white clothes. The grease or motor stains something we all dread. Don't fret, the Vanish Oxi Action Liquid has a unique formula that works very well on stains such as grease. You'll have to treat the soiled garment with a single wash to get the stains out for good.