Mustard on coloured clothes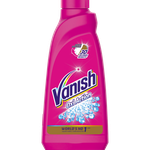 Vanish Oxi Action Liquid
Wash away your worries about stain with Vanish Liquid – Chlorine free. Vanish is different from other harmful Chlorine based traditional beaches, as it contains Oxygen, which removes stains without damaging the color of the fabric.
Vanish Oxi Action Liquid
Pre-Treat:
Step 1:
Use new Vanish Oxi Action Liquid pod to dispense liquid directly onto stain.
Step 2:
Gently rub stain as required using the base of the pod.
Step 3:
Leave Liquid on the stain for 10 minutes (max).
Step 4:
Place pod with 60ml dose into your washing machine and wash as usual with your detergent.
Did this solve your stain?
Other solutions to solve this stain
Didn't find the solution you were looking for?
Expert Tips
Mustard tends to dye fabric on permanent basis. Once dried, the dollop of mustard hardens and it becomes tough to get the stain off.
What to do:
Scrape off the excess residue gently.
Next, dab the stained area with a wet cloth or wet paper towel.
While stains tend to smudge if they come in contact with anything liquid, you have to be careful.
Get rid of as much residue as possible.
Then use Vanish and follow the instructions to get the former glory of your garment.
Related Articles
We all know mustard was the best thing to happen to humans after Nutella and mayonnaise.
While we all enjoy a dollop mustard with our hot dogs and fish fingers, mustard stains can be a menace. But, the Vanish Oxi Action is sure to save your day. Not only does it wicks off the stain completely, it does this in a single wash.