Sweat on coloured clothes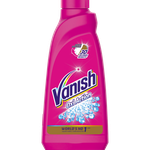 Vanish Oxi Action Liquid
Wash away your worries about stain with Vanish Liquid – Chlorine free. Vanish is different from other harmful Chlorine based traditional beaches, as it contains Oxygen, which removes stains without damaging the color of the fabric.
Vanish Oxi Action Liquid
Soaking
Step 1:
Add 60ml of Liquid into 4 litres of warm water (40°C max).
Step 2:
Soak item for 1hr (max) for colours or up to 6hrs (max) for whites.
Step 3:
Place pod with 60ml dose into your washing machine and wash as usual with your detergent.
Did this solve your stain?
Other solutions to solve this stain
Didn't find the solution you were looking for?
Expert Tips
It's embarrassing to have sweat stains on your clothes and even more if the marks stay on. What you can do is, soak the garment in luke warm water for at least an hour before washing.
Also, you might want to let the deodorant dry before you put on the shirt. Little do we know, but, deodorants leave their marks on clothes.
Have a look at the 'washing instructions'.
Add 60mls of Vanish gel to the normal detergent before you proceed with the washing process.
Launder as usual.
Trivia
When antiperspirants mix with nature salts in the sweat it stains the clothes. The aluminum compounds that reduce the moisture of deodorants, stains the garment too. The stain build-up is a gradual process although we may notice it only when it's evident.
Related Articles
Yes, more sweat stains will appear as you keep your nose to the grindstone. And as much we want to wear it as a medal, it is downright embarrassing to have sweat stains on your clothes. But, the Vanish Oxi Action has put to rest the never ending issue of sweat stains.
One wash and your garment will appear like it was never touched by stain.