Sweat on white clothes
How To Remove The Stain
Use Vanish Oxi Action!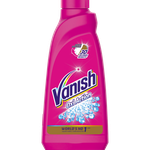 Vanish Oxi Action Liquid
Wash away your worries about stain with Vanish Liquid – Chlorine free. Vanish is different from other harmful Chlorine based traditional beaches, as it contains Oxygen, which removes stains without damaging the color of the fabric.
Vanish Oxi Action Liquid
Soaking
Step 1:
Add 60ml of Liquid into 4 litres of warm water (40°C max).
Step 2:
Soak item for 1hr (max) for colours or up to 6hrs (max) for whites.
Step 3:
Place pod with 60ml dose into your washing machine and wash as usual with your detergent.
Did this solve your stain?
Other solutions to solve this stain
Didn't find the solution you were looking for?
Expert Tips
We know the joy of wearing crisp, white clothes. Although, the feel-good feeling doesn't last long. No matter how much you take care of your whites a speck of stain ruins the entire garment.
One thing that works wonder with whites is soaking them in Luke warm water for about an hour before you wash them.
Follow this with the list of instructions provided above.
Add 60ml of Vanish Liquid to your regular detergent.
Launder as usual.
Another thing that you can do is to wait for at least 30 seconds after wearing the deodorant. This is to dry the deo, thus reducing the chances of stains.
Trivia
Sweat carries natural salt, which, when mixed with antiperspirant ingredients tends to react. Also, many perfumes and deodorants have aluminium compound that reduces moisture. It also lends a yellow tint to the fabric during the reaction. This tint seems to build up gradually, over regular use.
Related Articles
Stains on whites is the ultimate embarrassment one could ever have. Sweats stains takes a lifetime to come off. But, thanks to the Vanish Oxi Action, you can get rid of the stains in a single wash. Now, your whites can stay in their glory for long.